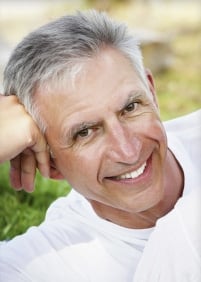 Do you suffer from having a missing tooth or missing teeth? Are you worried that at the next family gathering, your aunt Louise will whip out her camera phone again and you will either not open your mouth or leave the room?
Life is too short to avoid being with the people you love doing the things you enjoy. Implant dentistry dental implants can give you back your smile and might be able to give you the life you used to have, or wish you always could have. What a treatment different from a Dental Bridge?  See what makes a dental implant different.
What are Dental Implants?
Implant dentistry has created a remarkable system that can restore your smile. How? With dental implants. A tooth implant is a metal post that is inserted into your jawbone. Within 3-6 months, this tooth implant will fuse, or ossify with your jawbone, thereby basically created a tooth root that is durable and permanent. Once the implant dentistry tooth implant is secure, the dentist places a dental crown on top of the dental implants.
What Are the Advantages of Implant Dentistry Procedures?
Dental implants can restore one tooth or many teeth.
A tooth implant can not only make your mouth feel full, because it replaces the tooth root, it keeps your mouth full because your gums may not recede. This means your cheeks may not get that sunken in look that happens when you have no tooth roots. With implant dentistry procedures, a tooth implant can help your facial structure stay looking natural and symmetrical.
Dental implants can secure a denture device if you have many or all of your teeth missing.
A tooth implant basically replaces the tooth root. This means that your remaining teeth may not shift as they would have if the gap in your tooth was allowed to remain.
With implant dentistry procedures, dental implants feel, look, and function like regular teeth. You can eat and chew, not to mention smile and laugh and nobody will know they aren't your natural teeth. You may forget yourself that you ever had a missing tooth!
Implant dentistry is really quite miraculous and can give you not only your smile back, but may restore your confidence that gives you back the life you value so much. Call our office in Lodi in the Galt  and Stockton area today!